The tickets are bought. The currency is changed. The last day at work is over and done with; and the beach is beckoning. So all there is left to do now is to pack for your Cancún vacation. If this is your first time here, then this is the moment of pause. What to take? What to take?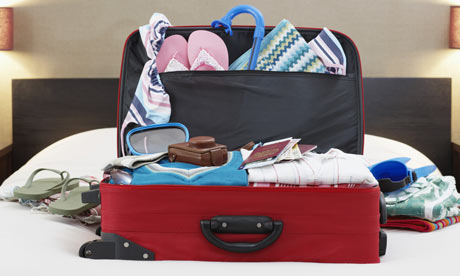 Let us recommend a few things:
*
Passport.
This is necessary to enter another country and then return to your own.
*
Plane/boat tickets and other travel documentation.
Unless you're planning on walking, swimming, driving or catching the train, then you'll need these to get there.
*
Accommodation documentation
. This is only necessary if you have booked your hotel in advance and they have asked that you bring it along with you. This does, however, include the name and directions to where you're staying. That way you can direct a taxi driver or find it for yourself.
*
Medical and automobile insurance documentation
. This is only necessary if you are planning to rent a car. Copies of documentation will be fine.
*
Credit card/ATM card/money.
This is to pay for all of those trips, taxis/buses/rental cars, food, drinks, souvenirs etc. For more information on the age-old issue of dollars versus pesos, as well as learning about Mexico's tipping etiquette,
click here
.
*
Essential medication.
These drugs might be keeping you alive. However, it is worth checking out their legality in Mexico. There is more information about that
here
.
In reality, we could actually stop there. You are not heading out into the wilderness. Mexico has plenty of shops, while Cancún itself has dozens of malls and markets. Whatever you have forgotten from this point doesn't matter. It can be bought or replaced quite easily; in some cases, far more cheaply than its counterpart back home. It would be the very epitomy of travelling light, but it is feasible!

La Isla Shopping Village, one of the many retail areas in Cancún
However, let's assume that you don't want to spend all of your vacation money on kitting yourself out. The rest of the list are suggestions, with the rationale alongside, for you to decide what you actually need.
Bags and other Luggage
*
Suitcase
. Obviously needed to carry all of this stuff. It's worth getting a sturdy one, then attaching something to it, like a ribbon, so you can recognize it later on. Your suitcase is stored in the cargo hold during your flight. It's then tossed onto a conveyor belt for you to pick up later. You'll be thankful of the ribbon, if you and all of the other 300 passengers brought the same brand and color suitcase with you.
*
Collapsible bag
. So you packed your suitcase to the brim on the way out, then you went shopping for souvenirs. 12 gorgeous Mexican blankets and 3 sombreros later, it suddenly occurs to you to ask how you're going to get them home again. Out comes the collapsible bag, that you had flat at the bottom of the suitcase. Voila! Something to check in with all of your new purchases in it.
*
Hand luggage
.
All airlines will have restrictions on the size of the bags that you can keep with you on the plane. Also, in these days of high security, there will undoubtedly be limitations on what you can pack in it. Check with your own airline to see what you can use here. Many airline security guards will secretly want to kiss you, if you purchase a transparent bag. It makes their job a lot easier.
*
Beach-bag
. To be fair, this could double up as your hand luggage for the plane. Ideally a beach-bag will have zippers on it, so that things don't drop out to became buried treasure. Think of what you might need on a beach (book, suntan creme, beer...) and choose a bag sized accordingly.
Clothes and Footwear
Cancún is very laid-back and the weather is hot. Most people will be wearing summer clothes/swimwear and flip-flops. A light cardigan is fine for the evenings, though you might not even need that.
*
Swim-suits
. Bring two or three. You will probably be living in these, so it gives one set chance to dry out, while you wear the other set. Then swop again the next day.
*
Swim-suit Cover-Up
. Viva sarong! Even the most shapely supermodel might feel a little self-conscious nipping to the shop in a bikini or swimming trunks. Also remember the heat of that sun. Sunburn might make you want to cover those shoulders for a while.
*
Two or three summer outfits
. Shorts, t-shirts, summer dresses etc. This is attire for shopping malls and day-trips. It is best here to think in terms of complimentary colors. That way you can recycle things by mixing and matching, thus keeping your luggage weight down.
*
One dressier option
. Some of the classier restaurants will require you to be dressed up. Also, you may wish to sign up for a romantic cruise around the lagoon. Substitute this for your clubbing gear, if you are going to tour Cancún's huge array of nightclubs.
*
Light cardigan/thin sweater/cotton jacket
. You might want this during the evening. You will more likely be wanting it when you get off the plane back home.
*
Flip-flops, sandals or similar
. This is what the majority of people will be wearing around you. The sidewalks can get very hot in the sun, so flip-flops will stop you burning the soles of your feet.
*
Water shoes
. With such a selection of water-based activities, water shoes can be very helpful. This is more of a health and safety consideration. They will help your grip on slippy steps at the edge of cenotes; they reduce the risk of picking up verucas from fellow tourists etc.
*
Closed-toe casual footwear
. Sneakers, tennis shoes and the like. This is mainly for some of the trips, where such articles are required. For example, no-one will let you go zip-lining in flip-flops. Also, this could be your footwear in which to arrive and depart, assuming that your home country isn't as hot as Mexico right now.
*
Smart shoes
. These are only to compliment your dressier outfit; so don't bother taking them, if you aren't packing that.

Crowd in Cancún
Sundries
*
Toiletries
. This includes your toothbrush; toothpaste; deodorant; perfumes; aftershave; shaver/razor; make-up; moisturizers; gels; contact lens solutions et al. all of the things that make you look and smell beautiful. It is worth packing these inside waterproof bags, in case they burst in transit. Shampoo, shower gel, soap and bubble bath bottles are usually complimentary in the hotel rooms. Most hotels also provide hairdryers in your room.
*
Sunglasses
. This is an absolute must. The sun can be very bright out there.
*
Sunhat/Sun visor/Cooler headbands
. Anything that shades your face from the sun and/or cools you down could well become your best friend. Cancún and its environment can become very hot.
*
Beach Towel
. While hotels do have towels for use in the rooms, few will allow you to take them down to the beach. Some hotels will rent beach towels to you though. If in doubt, ask your hotel what their policy is regarding beach towels, then pack accordingly.
*
Book or magazine
. Just something to read during those lazy days sunbathing.
*
MP3 player
. Lots of places will be playing music anyway, but sometimes you just want to listen to your own special tunes.
*
Camcorder/Camera/Underwater camera
. You will only need an underwater camera if you intend to snorkel or go scuba diving. They can be rented to you from resorts, but usually at a high price. Remember to include camera film/memory card/batteries/recharge cable.
*
Biodegradable sunscreen
. If you are planning on swimming in the sea or a cenote, or indulging in a water-based activity, then you will often find that you have to use biodegradable sunscreen. This protects the local flora and fauna, not to mention helps save the coral reef. More information on that is
here
.
*
Mosquito spray
. You will only need this if you are venturing out into the jungle.
*
Small/basic First Aid kit
. This is only for those minor cuts and aches that you can easily deal with, without wasting valuable vacation time seeking out the hospitals. It could include Band Aids; aloe gel for sunburn; hangover cures etc.
*
Electrical adaptor
. You will only need this if you are a) bringing electrical items that need plugging in or charging; and b) your home country's sockets are different to those in Mexico. More information is
here
.