Kukulcan Plaza
Opening times: Every day 10am - 10pm
Blv. Kukulcán Km 13.5
Zona Hotelera, Cancún
Quintana Roo. C.P 77500
Website
There are more than 250 shops in the Kukulcan Plaza. It nestles between five star hotels and houses elegant, internationally reknowned boutiques, Mexican handcrafted item and designer jewellery. Even the elevators have panoramic views of the Nichupte Lagoon. Kukulcan Plaza is enclosed, air-conditioned, and includes Luxury Avenue, which caters for the more discerning clientele. However, there are stores at the cheaper end of the market too. Once the shopping is done, then the Kukulcan Plaza offers two large movie theaters, with films in English and Spanish, as well as a bowling alley.
Motorbike enthusiasts will find plenty to look at in the Harley Davidson store; a touch of glamour might be purchased at Versace, with something to sparkle at Cartier or Tiffany & Co; party people might see if Señor Frog has a 'dive into a swimming pool full of beer' theme night running; people searching for a new suit of armour or longsword will delight in La Ruta de las Indias; while those needing a pick me up have a choice of pharmacies in there. There is a huge variety of tequilas to choose between at the Hacienda Tequila Store.
The children may prefer to hang out at Kukulkids, where qualified childcare staff will watch over even very little ones, while Mum and Dad go shopping.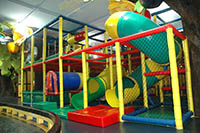 Babies and older children are separated into huge play areas suited to their age range.
Meanwhile, the gamers amongst you might want to head into PlayCity, the large video gaming casino inside the mall. People of all ages will enjoy the bowling alley at the plaza. There is also free wireless internet connection throughout the plaza, just go to a service point on the second floor for the access code.
Kukulcan Plaza has a food court, on the second floor, as well as many restaurants. Here Mexican, American, Oriental and Italian food may be savoured. There is also 100% Natural, a vegetarian and health food restaurant.
Strolling musicians and street theater also add to the ambience. Occasionally the music might be the main attraction. Martin Portillo, Paraguay's leading virtuoso harpist, has performed in the artium; while Mexico's own Felix Castillo took out his saxophone to play in Luxury Avenue. Naturally both events brought crowds of people more intent on watching the show than shopping. The mall has also staged an international film festival.
As well as being a shopping centre, the plaza can be a mecca for artists. Amongst the permanent displays is a 75-foot stained glass atrium by Clemente Cameo Misrahi and Erika Almazán Quintero based on the sacred Mayan book, the Popol Vuh. There may also be photography or art exhibitions on the upper level too. The artist, Dante, has a studio in the main mall, where visitors may purchase his hand-carved pendants and other jewellery.
For those arriving by car, there is underground parking for over 1000 vehicles.
View Larger Map
~~~~~~~~~~~~~~~~~~~~~~~~~~~~~~~~~~~~~~~~~~~
Luxury Avenue
Opening times: Every day 10am - 10pm
Blv. Kukulcán Km 13.5
Zona Hotelera, Cancún
Quintana Roo. C.P 77500
Website
Luxury Avenue is actually part of Kukulcan Plaza, but is set apart with very select stores for the extremely discerning shopper. There is valet parking from the entrance to the mall, a concierge inside and personal shopper services on offer. If entering from the Kukulcan Plaza end, then you will pass under a 15 foot crystal chandelier, designed and created by Swarovski, containing 250 lights. There are just 25 stores in this mall, but they have names familiar from Milan, Paris and New York's Fifth Avenue. Visitors can be sure of a personalised service in each boutique along the way.
Fendi, Longchamp, Louis Vuitton, Salvatore Ferragamo, MontBlanc, Tous and many more prestigious names line this wide avenue. Though the wares are expensive, they average at 40% cheaper than the same items sold in the USA.
The only Burberry store in the Mexican Caribbean is in Luxury Avenue. The dressmaker to the Hollywood stars, Max Azria, has a store here too, BCBGMAXAZRIA; while Italy's MaxMara, with its own celebrity following, is just down the street. The men aren't left behind, when there is an Ermenegildo Zegna shop here.
Nothing says exclusive jewellery like a Cartier Maison tag and Cancún's Cartier store is in Luxury Avenue. Or how about a Swarovski crystal or a Swatch watch? Both companies have stores here. There is also a boutique from the most fashionable Mexican jewellery designer, Daniel Espinosa.
Cancún is a popular wedding location. If you wish your reception dinner to be served on a Cristofle silver platter, with champagne sipped from a Swarovski wine glass, then a trip to Luxury Avenue is a must.
For dining and refreshments, there is the Luxury Bar and Café (chic setting, designed by Karim Rashid, with items of furniture donated by Veuve Clicquot; exclusive menu.)
View Larger Map