As any sports fisherman will tell you, Mexico is the place to go for the big catches. Peak season is dying down, but August is still boom time for these intrepid anglers. The reports are coming in, thick and fast, of landed monster fish worthy of a photograph to frame for the wall back home.
Take, for example, this snippet from Jonathan Roldan's '
Tailhunter Fish Report
':
Tony Toven from Los Angeles had gotten enough "football tuna" and asked Captain Pancho to try for one of the bigger models. He hooked up on a big chunk of fresh squid over the trench off Las Arenas and was in for a big fight. By the time they got it to gaff, the fish had towed the panga into shallow water... The fish weighed in at 63 pounds (on a scale). Tuna continued to crash this past week for our anglers!
La Paz/ Las Arenas Fishing Report from Tailhunter International for Week of Aug. 1-7, 2010
Please click on the above link for a whole picture gallery of huge catches, plus blog entries telling all the stories from some amazing fishing expeditions around La Paz and Las Arenas.
Meanwhile, Seann, from
Sport Fishermen
, was reporting back from further down the Pacific coast. In Puerto Vallarta, there were blue marlin, black marlin, stripers, sailfish and tuna darting through the clear, blue waters.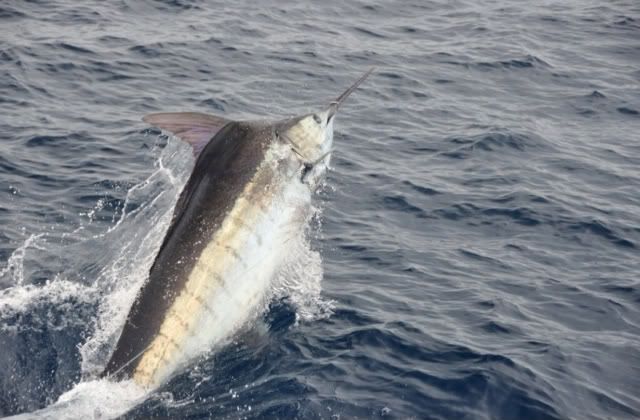 The tuna bite was also red hot. The crew nailed 6 in about 3 hours, all about 40-60 lbs. One of the best days on water of the year, you cant ask for more. Our Annual Marlin and Tuna Tournament is coming up August 12th-14th. From what I've heard so far, it's going to be a bigger turnout than last year and the way the fishing is going right now it should be blast!
Marlin Report Puerto Vallarta
For more information about the Annual Marlin and Tuna Tournament, please click
here
.
Meanwhile, over on the other side of the country,
Abu Fishing
was showing videos of
deep sea fishing in Cancún.
If you fancy your hand at fishing in Mexico, then peak season in the Yucatán is March to July; while the Pacific Ocean has the greatest variety of fish from November to January. That's only peak season though. As the reports above show, the bites are still great during the rest of the year too. You will be guaranteed at least one fish caught no matter when you come. Most tours don't even require you to bring a rod, as the boats are fully equipped. Just sit back, sail out and let those big fish come to you!