We have covered the drug violence before, in
Drug Wars - Cancún is Safe for Tourists
. It was heartening to read that, amongst all of the scare stories and misinformation, some of the international news sources are conveying the reality of the situation. Today's blog is a little round up of some of them.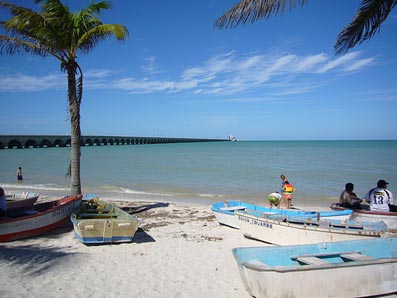 "If you look at history, today we have fewer murders, both in raw numbers and rates," said Mario Arroyo, a researcher with the Citizens' Institute for Crime Studies, a Mexico City think tank.
The statistics show that the most deadly violence is happening in northern Mexico close to the U.S. border where smuggling occurs, and in the states where marijuana and heroin are produced. Also:
• The state with the lowest murder rate is Yucatán, the Gulf of Mexico state known for its beaches and Mayan ruins. Its murder rate of 2 per 100,000 was comparable to Wyoming and Montana.
• Washington, D.C.'s murder rate is nearly quadruple that of the Mexican capital, Mexico City. Washington's murder rate was 31.4 per 100,000 people in 2008; Mexico City's rate in 2009 was 8."
Mexico's violence not as widespread as seems, USA Today, August 2010
"The news media prefer to report horrible events rather than address the reality; Mexico is, in general, a very safe country -- with the notable and news-making exception of Juarez and other border towns -- and has far less violent crime than any large U.S. city," says Barbara Erickson, one of more than a million Americans who lives safely in Mexico.
According to Erickson, a San Miguel de Allende resident, "one would have a greater chance of being hit by lightning than being shot or kidnapped by a drug load's gang."
How Safe is Mexico?, AOL Travel News, March 2010
The Miami Herald went further still. It cited that, while Mexico, as a whole, had a murder rate of 11.5 per 100,000 people, Washington DC has a rate of 31 per 100,000 people, while New Orleans has a rate of 74/100,000! Despite the news headlines, the homocide rate in Mexico has dropped significantly during the past ten years; while modern day murders tend to be 'concentrated in a few cities, mainly in Sinaloa, Chihuahua and Baja California'.
The commentary added, "To say that it's unsafe to travel to Mexico City, Puerto Vallarta or Cancún -- or that you wouldn't allow your children to spend spring break in that country, as Fox News' right-wing airhead Bill O'Reilly said last year -- is as irresponsible as saying that it's unsafe to travel to some of the biggest U.S. cities.
The State Department's travel alert, while correctly pointing out that the violence is concentrated in some Mexican states, should have put Mexico's national figures in perspective. It wouldn't be a bad idea if, from now on, it compared them with other countries' murder rates, and with that of its own home city -- Washington, D.C."
Mexico's drug-related violence isn't widespread across the country, The Miami Herald, March 2010
All of these stories were pretty much referring to the same source. That was the United Nations findings. I went to read the original for myself, but found another great story instead.
Human Trafficking is a global issue. It is effectively modern day slavery; snatching vulnerable people from around the world and selling them onto private individuals or into brothels, usually in another country. Organizations like
Amnesty International
have long since been campaigning for governments to take note and help those brought into their realm. The United Nations recently came on board and launched its
Blue Heart Campaign
. Guess which country was the first to sign up for it? Viva Mexico!
"Mexico became the first country today to launch a national version of the United Nations-led "Blue Heart" campaign against human trafficking, which is regarded as one of the most lucrative forms of illegal activity for criminal groups.
"I admire Mexico's leadership in fighting this modern slavery demonstrated through its strong commitment to the 'Blue Heart' campaign," said Antonio Maria Costa, Executive Director of the United Nations Office on Drugs and Crime (UNODC), which spearheaded the global campaign."
Mexico leads countries in UN 'Blue Heart' human trafficking campaign, UN News Service, April 2010.
Much kudos too for the USA, which launched its campaign two months later; and Spain, who are gearing up to start their campaign.